Arabian Ranches 3
Villas for sale, Completion Date, Master Plan
Emaar introduced Arabian Ranches III in the wake of the enormous success of Arabian Ranches I & II. Divided into the Sun, Joy, Ruba, Spring, Bliss I & II, Caya I & II, and Elie Saab I & II. It has more than 4000 three- and four-bedroom villas and townhouses that are organized into clusters and smaller communities. It is the largest gated villa complex with five access points, tucked a bit farther from Arabian Ranches I and II.
Developed by Emaar Properties, one of the largest developers in the Middle East, Arabian Ranches 3 is a world-class gated community. Located a short drive away from Dubai, this luxury gated community is home to a collection of luxury villas, townhouses and a few low-rise apartments. With a range of premium amenities, including a splash deck, tennis courts, cricket field and a lazy river, the Arabian Ranches 3 is one of the best-gated communities in the region.
Villas For Sale In Arabian Ranches 3
The townhouses and villas are meticulously designed. Although there are a lot of different villa configurations and styles to pick from, as the name suggests, Islamic architecture elements will predominate in their design. Arabic, Spanish, Portuguese, and Moroccan accents all emphasize tasteful architecture, sharp lines, large windows, light colours, and high-quality finishes. The community is exquisitely designed with exquisite taste and attention to detail, and it includes roomy 3 and 4-bedroom homes that are ideal for a balanced lifestyle. Villas are enhanced by peace and simplicity, and each room in the villas is equipped with high-quality utilities and has an exquisite outside and smart interior. All of these things are enhanced by the breathtaking views and the generally wholesome ambience that pervade Arabian Ranches 3.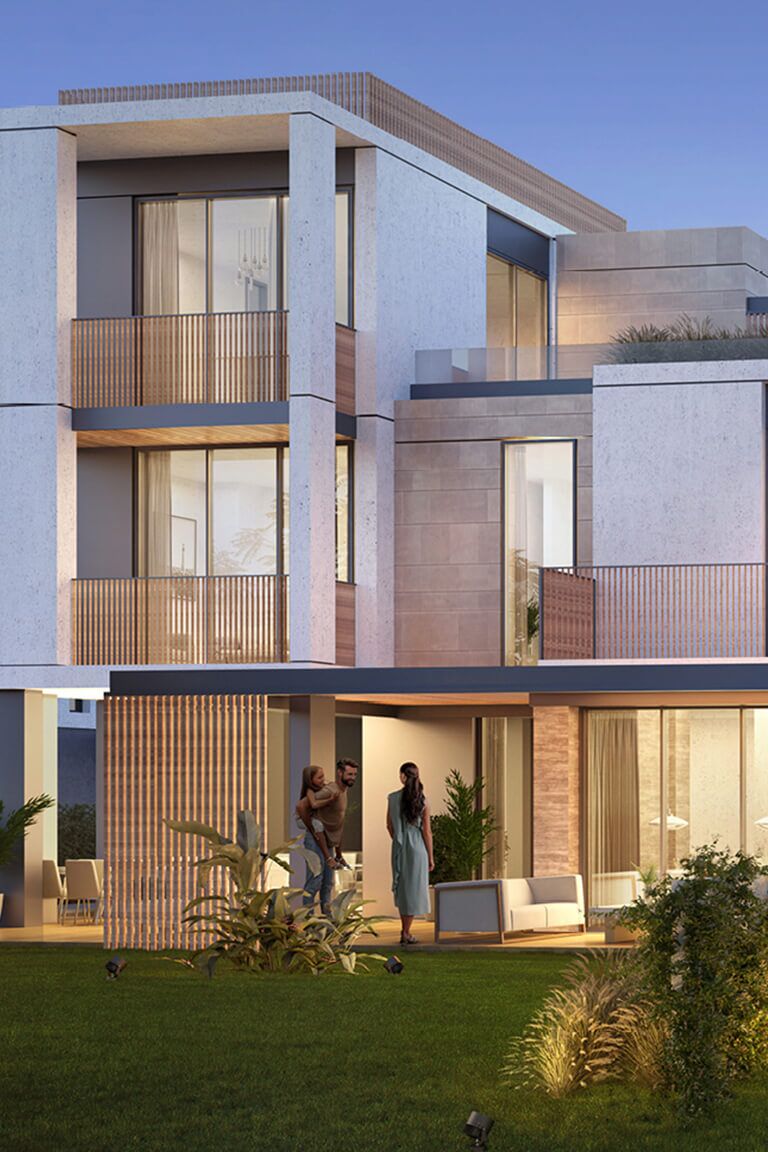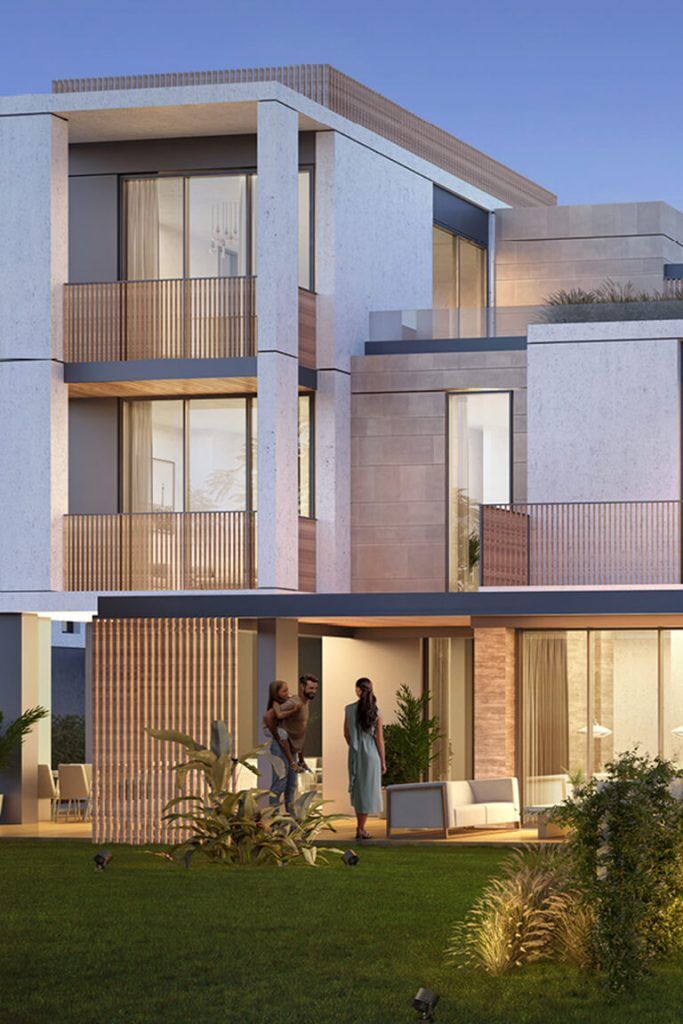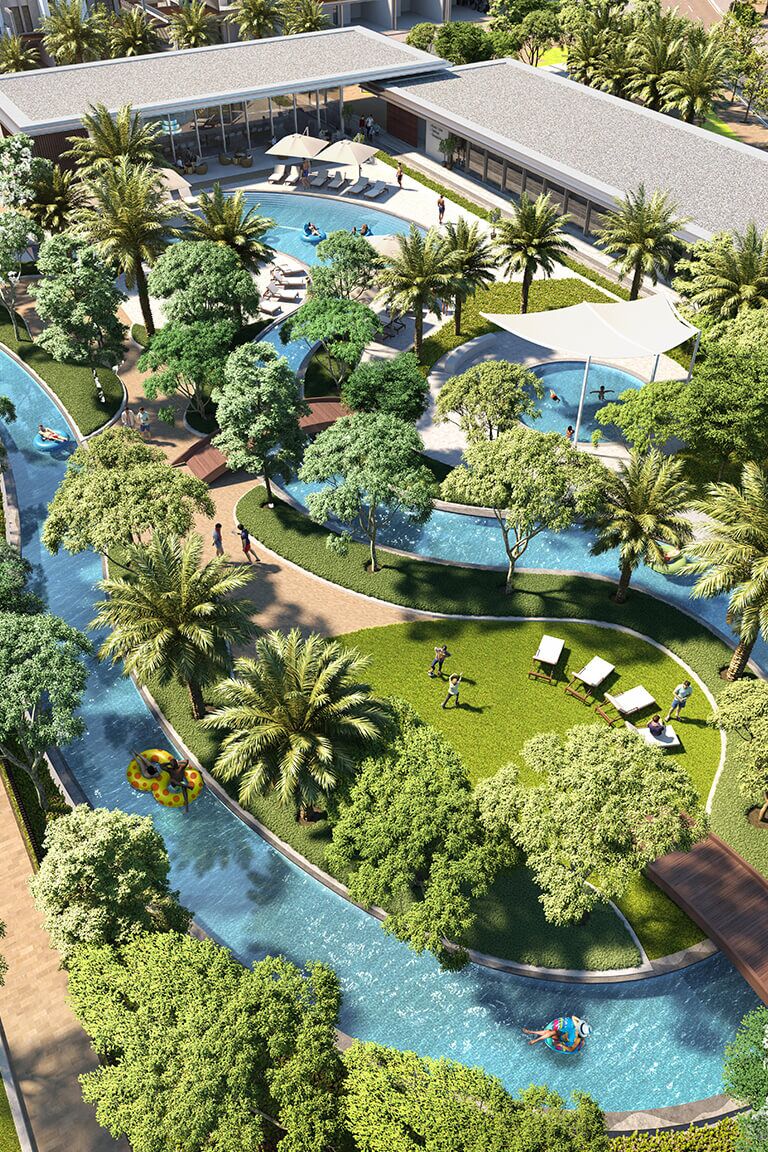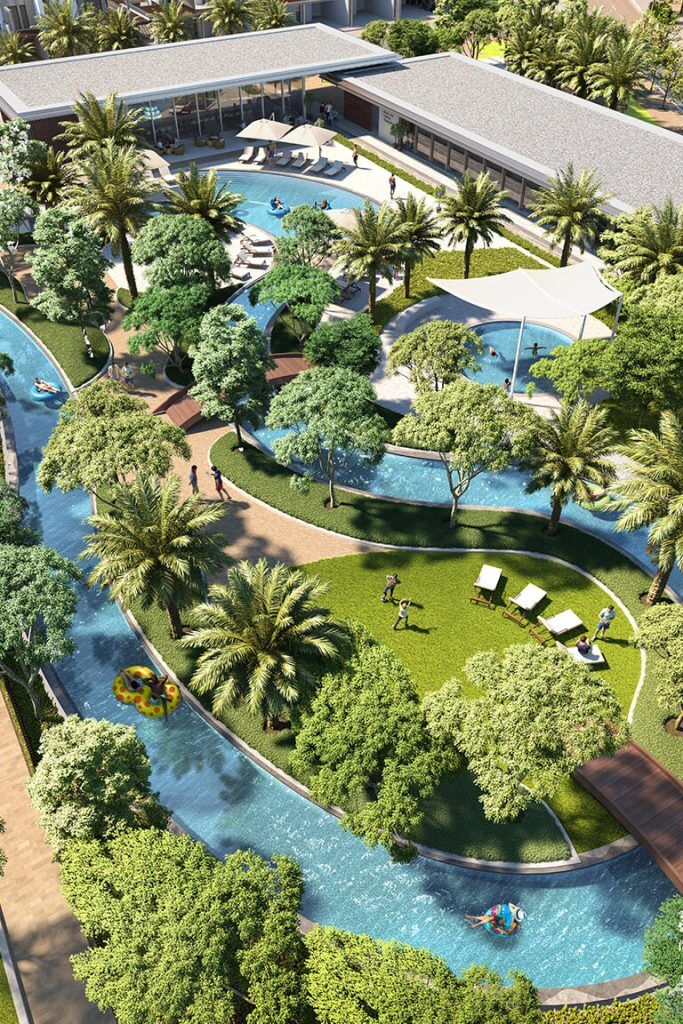 Arabian Ranches 3 - A Luxurious Gated Community
Arabian Ranches 3 is just a short drive from the previously finished areas and is easily reached via Sheikh Mohammed Bin Zayed Road and Emirates Road (E611) (E311). It has Sheikh Zayed Bin Hamdan Al Nahyan that connects it to the other communities. Emaar's Arabian Ranches III, one of the biggest gated villa communities in Dubai, features five entrances and a wealth of lavish lifestyle amenities.
Located 20 minutes from Downtown Dubai and 10 Minutes from Global Village, Ranches 3 is an excellent neighbourhood for family living.
Properties in Arabian Ranches 3
Amenities At Arabian Ranches 3
With miles of walking routes going through the various villages, Emaar's Arabian Ranches 3 will be a "walk-friendly" neighbourhood.
The 7.5-acre central park, which includes a central plaza, lawns, adventure zones, a skate park, picnic spots, a gymnasium, jogging trails, and a cricket field, are the main attractions of Arabian Ranches 3.
A four-kilometre-long boulevard and a variety of smaller parks with playgrounds will also be available to residents. Additionally, a mosque, reputable schools, and healthcare services will all be nearby to residents.
The Sun neighbourhood offers its members a lazy river, private backyards, BBQ areas, family-friendly restaurants and retail options, close proximity to the central park, and a dedicated gym.
Residents even have access to the riding and golfing facilities at the Dubai Polo & Equestrian Club and the Arabian Ranches Golf Course.
Arabian Ranches III will be connected to the 86-kilometre Al Qudra Cycling Track once it is finished.
Arabian Ranches 3 Master Plan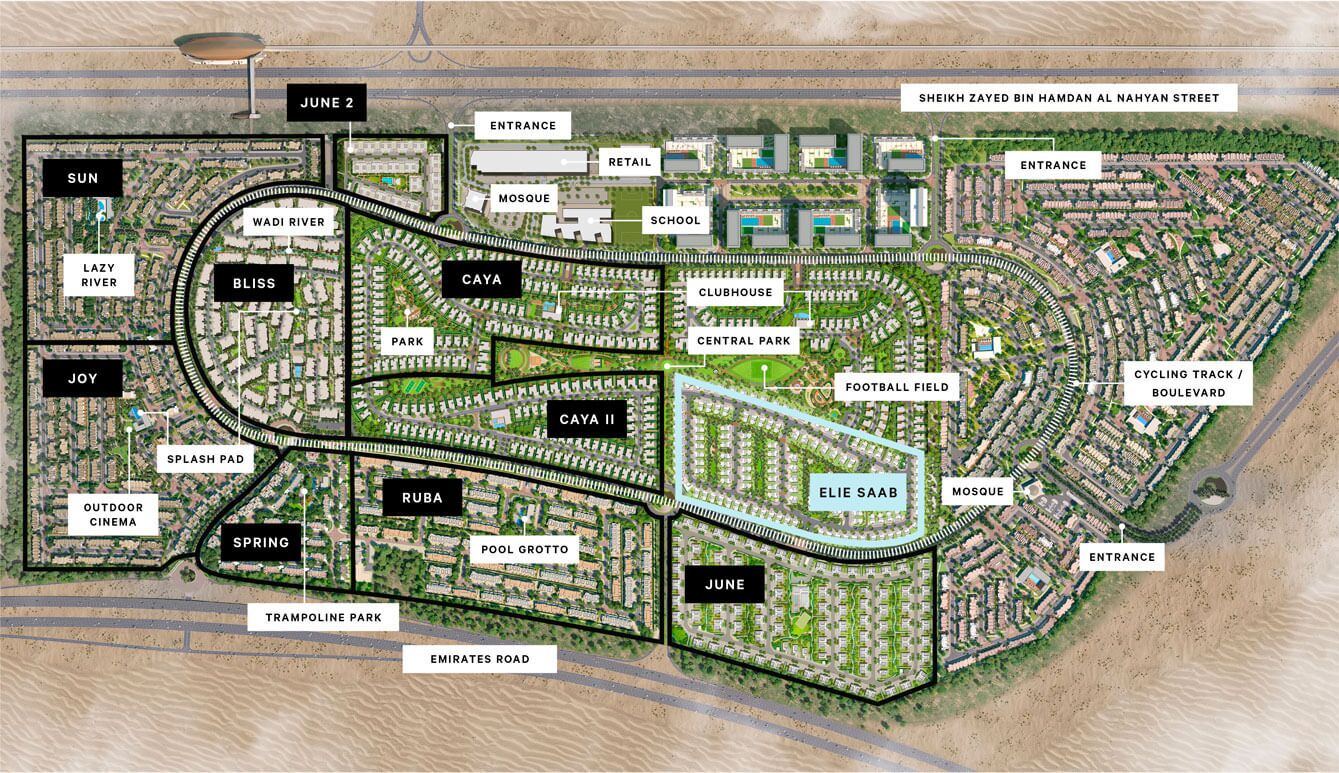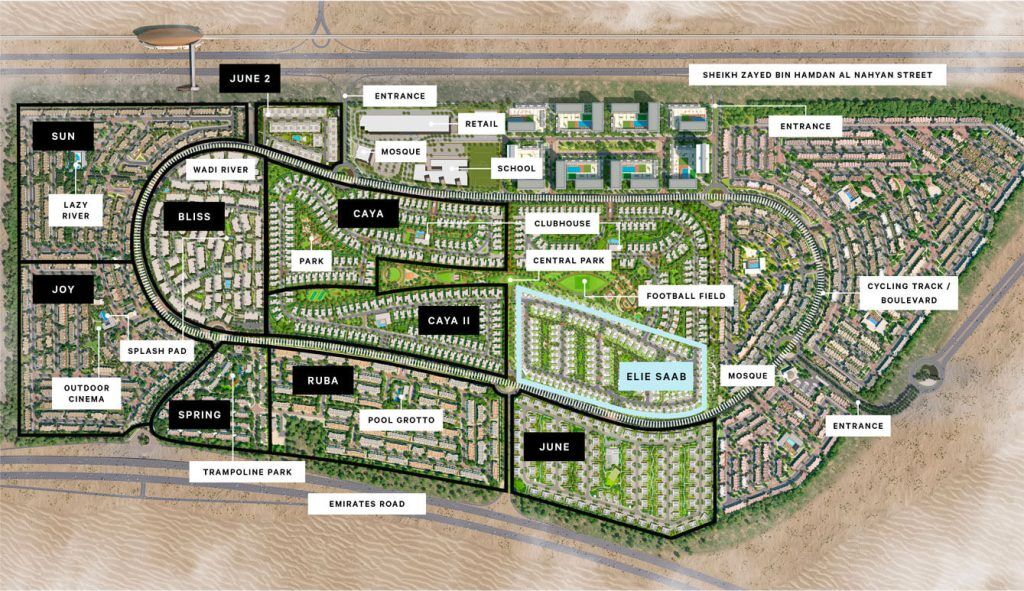 Why Invest in Arabian Ranches 3?
Villas at Arabian Ranches are a great option for both homebuyers and investors. The neighbourhood is located off Sheikh Mohammed bin Zayed Road (E311), and Al Qudra Road provides quick access to the city centre (D63). The homes available for sale in Arabian Ranches offer the safety and convenience of a gated neighbourhood studded with beautiful green spaces, community centres, and kid-friendly amenities. The good predicted rental returns of up to 5.4%* provided by the homes for sale in Arabian Ranches can be relied upon by investors considering choices for buy-to-let villas in Dubai.
Investing in Ranches 3 can prove to be one of the most profitable real estate investments you will ever make. With the villas currently averaging in price at around AED 3.9M, there is tremendous upsell potential. As the community continues to grow and expand, the value of the villas is only going to increase. This is a surefire way to secure your financial future and live the life of luxury in one of the most prestigious cities in the world.
With a a wide range of property choices and premium amenities, Ranches 3 offers homeowners a lifestyle that is second to none.
Over 20 Different Options..
Over 20 Different Options..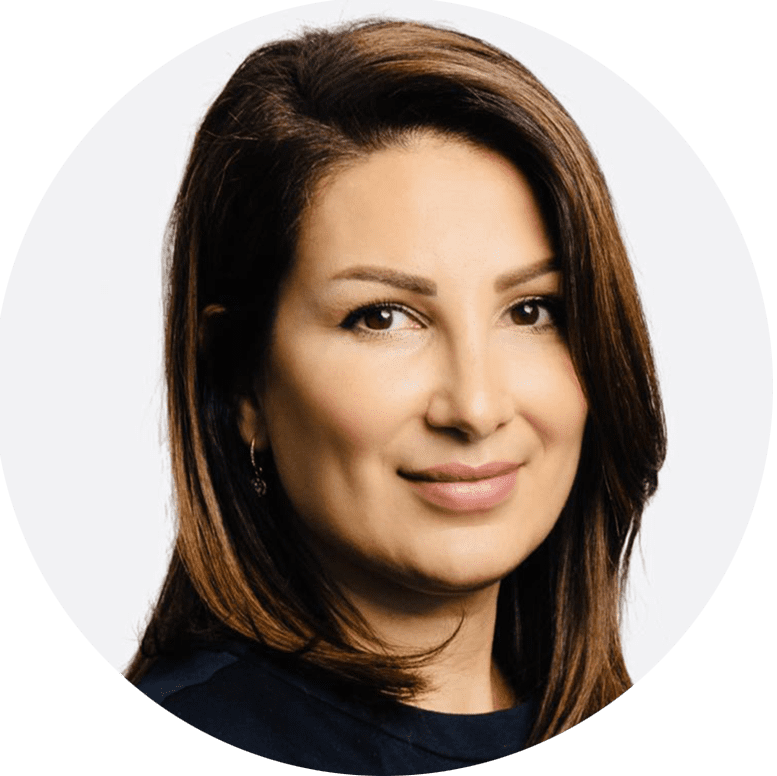 Rasha Nasr
Arabic, English, Swedish
+971 52 738 8870
Broker Card : 50040
Need Help Buying, Selling, or Renting?
Diversity at Homeville is a crucial factor for our success.
Our team members speak English, Arabic, French, Swedish, Tagalog and Hindi. Being able to communicate in 6 different languages helps our clients to understand the agreements, laws & regulations related to properties in the United Arab Emirates.
Frequently Asked Questions